Blackburn Pest Control is a family owned and operated Pest Control Company serving the Las Vegas, Henderson & Boulder City areas since 1983. We offer a wide variety of pest control services and specialize in Scorpion Management, Bed bug Extermination, Pigeon Exclusion, Bee Hive & Wasp's Nest Removal and Rodent Control. Our technicians attend regular continuing education programs to insure they are able to provide you with the best pest control service and guarantee they can handle any pest problem that may arise at your home or business. Our friendly and knowledgeable office staff are available to answer any of your pest control questions and schedule an appointment for you right away. At Blackburn Pest Control we pride ourselves on our No Contract pest control service, we feel that our superior service sells itself and will leave you with peace of mind of knowing that your pest control needs are being handled by a pest control company with integrity and by technicians that truly do care about you and your family.
Let us protect the ones you love.
Serviced Areas
Las Vegas, Henderson, North Las Vegas, Boulder City
Payment Options
American Express, Debit Cards, MasterCard, Money Orders, Personal Checks, VISA
Contact Details
Products & Services
Blackburn Pest Control is licensed to preform VA, FHA and NACA approved termite inspections for anyone buying, selling or refinancing a home. Even though Termite infestations are rare in the Las Vegas Valley. They can get established in a home or business. Termites get into our homes when there is moisture in the wood. A few examples can be water leaks, stucco damage, cracks in tiles.
---
Bed Bugs are on the rise in Southern Nevada. In recent years, the increase in immigration and travel as well as restrictions on the use of pesticides has led to the relatively recent increase in bed bug infestations. They can be transferred by individuals or live on possessions in homes, hotels, college dorms, apartments, and shelters. Once bed bugs have been introduced into a structure, they find numerous areas to harbor and continue to increase in population. Typically, they hide out in cracks and crevices during the day, coming out at night in search of a meal.
---
Rodent populations continue to increase in conditions that allow easy access to food and shelter. Uncontrolled rodent populations can cause significant adverse affects in the community. Sanitation efforts in conjunction with rodent control provide the best solution to reduce or completely eliminate these pests. According to health and sanitation experts, effective and long-term rodent control requires more than one approach to eliminate these dirty, disease infested pests. It is extremely rare for a rat infestation to be managed by means of a single control technique. Preventative pest control, rodent inspections and control all need to be part of your pest control measures. We are equipped with the knowledge, experience and strategies to rid your home or property of rodents and make the process worry free for you.
Customer Testimonials
My Aunt owns a home in Las Vegas so i referred Blackburn Pest Control to her as she was having trouble with roaches and other bugs. Last week she called me and was so happy i convinced her to have them come check things out, She only had good things to say. Thanks a lot guys!
---
My Grandpa has a house in LAs Vegas, and when we were there was a rodent problem. They came out the same day and took care of the pest problem! Excellent service I have to say!
Social Activity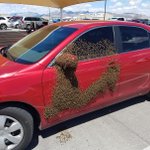 That time of year again, bees are on the move! Give Blackburn a call for your Vegas bee removal needs! (702)451-0460 https://t.co/mNwDNYLACP
From Our Website
Blackburn Pest Control is a dedicated team of professional bug and pest exterminators in Nevada. As a family-owned and operated business, our company has been servicing homes and business in the Las Vegas Valley for over 35 years. All our technicians are background checked, GPS monitored and receive extensive training throughout the years. Blackburn Pest Control not only helps eliminate pests, but also prevents unwanted presence of pests in the future through regular service! We are a professional bug and pest exterminators in Nevada.
---
Nevada is home to two main species of scorpions such as the Bark Scorpion and the Desert Scorpion, which seek refugee from the hot desert by climbing into cool, dark places, which could be in or around your home. If you've noticed these creatures in your home or business, please contact us immediately! If you notice a lot of insects in your home, scorpions might not be far behind. No matter which type of scorpion has infested your home, you should contact a scorpion expert to get rid of them. At Blackburn Pest Control, we take pride in our scorpion control methods, which set us apart from other pest control services in the area.
---
The most common roaches in the valley are American, Oriental, and German Roaches. They are considered a public health threat because they can cause asthma, allergies and feed/breed in unsanitary places like sewers, septic tanks or garbage storage, spreading the population of disease causing bacteria in your home. If you see one, there's more! They reproduce so fast that they can explode into a huge infestation in your home or business. Unfortunately, anyone can get them it doesn't matter how clean you are.
---
Rats are becoming a big problem for homeowners and business owners in the Las Vegas, NV, area. Specifically, the roof rat population is growing and spreading into homes and buildings across the Las Vegas Valley. If you think you need the help to control the rat infestation, turn to Blackburn Pest Control! We'll help you gain control of the noisy pests that disturb your peaceful sleep! Roof rats are great climbers and often nest in the attic. However, they will enter your home or business by any means available, including vents, structural gaps, or other openings.
---
Bed Bugs are notoriously difficult to get rid of. They spread unbelievably fast and are easily reintroduced into a home or business. Blackburn Pest Control can control your bed bug infestation. We know where they live, how they spread and most of all how to treat them. We can send one of our technicians for an inspection. If you have us provide the treatment, the cost for the inspection will be deducted from your bed bug treatment. Bed bugs range in size from about 1/6th of an inch to 1/8th of an inch.
Nearest Businesses