TheLen's offers proactive pest control services. We are servicing the following locations: the greater Las Vegas, Nevada from Boulder City/Henderson to Summerlin/Blue Diamond and North Las Vegas. We are offering home and business owners with pest control services ranging from bird (Pigeon, Sparrow) to major (Cockroaches, Spiders, Bed Bug)/minor (Ant, Wasp, Bee, Mice) insect infestations. Call today for a quote over the phone.
Serviced Areas
Greater Las Vegas/Henderson and Nevada
Payment Options
American Express, Debit Cards, Discover, MasterCard, Personal Checks, VISA
Contact Details
City

Henderson

,

NV

Address
2578 Land Rush Drive
Phone Number

(702) 582-5367
Products & Services
Residential pest services
TheLens NEW Pest Solutions offers residential pest control solutions throughout the Las Vegas, Nevada region. houses, condos, vacation property, apartments, duplexes, and just about any other residential structure we have a pest solution for. Don't take a chance and suffer with a pest that could have been controlled right the first time, get TheLens NEW Pest Solutions to see what other pest control companies are lacking.
---
Bird Control Services
TheLens NEW Pest Solutions offers bird control decisions throughout the Las Vegas, Nevada region. Pigeons, starlings, sparrows, and grackles are great for the environment at eating what human beings leave behind; but damage from the nests and droppings leave germs, parasites, disease, infections, and illnesses for people to overcome.
---
Commercial pest services
TheLens NEW Pest Solutions offers commercial pest control decision throughout the Las Vegas, Nevada area. Retail stores, warehouses, doctor offices, hospitals, casinos, hotels, motels, property management, apartments, duplexes, rental properties, and just about any other businesses we have a pest decision for. Don't take a chance and ruin your reputation over a pest that could have been controlled right the first time, get TheLens NEW Pest Solutions to see what other pest control firms are missing.
---
Natural/Organic Pest Control
Looking for an organic or natural solution to pest control services without the use of harsh pesticides in Southern Nevada. Why? Minimizing the risk exposure of synthetically made pesticides and allowing products to do the work that nature intended.
TheLens is looking ahead to the future and we are becoming enthusiastic environmentalists, guardians of our home here in Clark County. We offer green pest control solutions in-line with sustainable eco-friendly philosophy to reduce harm to you, your family, your home, our neighborhoods, or Nevada. At TheLens, we provide Eco-friendly pest solutions, saving you time and money throughout the year.
Customer Testimonials
We had Pest Solutions in michigan. They do a wonder job! Very professional. We were very happy with the results and services.
---
When I initially purchased my Vegas property last Fall, we had a slight infestation of roaches, crickets, and spiders. I gave Clay from New Pest Solutions a call to come check out the problem. He arrived on schedule and did a thorough inspection of my home. After his inspection, he provided a detailed analysis of pests at the property and things to look out for. He applied a treatment that killed all pests, which gave my girlfriend piece of mind! Since then, we've been pest free! Clay's prices are extremely fair and I suggest setting up a regularly scheduled treatment of your home. And as the other reviewer stated, Clay is very friendly and punctual.

Highly recommended.
---
Clay from Thelens New Pest Solutions is extremely meticulous in his inspection of homes for pests. He also creates a comprehensive report and treatment plan. His prices are very fair and he is on time, friendly, and reliable. I use him for several of my properties.
---
I've had other pest control companies in the past, but what TheLens New Pest Solutions did for me, made me very happy I took a chance on a local company. I had them come out just a week after my previous pest control company was here-even though the old company did a treatment, I was still seeing live insects
Inside and outside my house. When TheLens arrived he explained exactly what he was going to do, did an inspection, performed the service and checked out with me after the service, and also explained what I could do to prevent future problems. I have never had another pest control company go over this with me. The technician was very
Knowledgeable and I would be very happy to refer TheLens New Pest Solutions to anyone over any other Las Vegas Pest control company.
Social Activity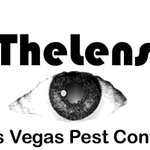 Changing the way we price out pest control services.March 4, 2016 we changed the pest control programs we offer. https://t.co/082er2HonP
Nearest Businesses